April 28th - April 30th, 2023

The Sockers FC Spring Classic Cup provides the top level teams around the region an opportunity to prepare for the demands of Fall & Spring seasons. Teams looking to test their players for Regional Leagues and State competitions should seriously consider this event. Played on Schaumburg Park District's – Olympic Park, Palatine Park District – Aspen Park both are multiple artificial all-weather turf and grass field facilities; this event presents a good soccer environment during Fall season. Grass fields at Connelly Park will be used depending on the number of teams registered for this tournament.
LOCATION: Schaumburg IL
DATE: April 28th to April 30th, 2023
COST:
19U-13U $775
12U & 11U $700
9U & 10U $625
8U $350
Olympic Park
675 Old Schaumburg, Schaumburg, IL 60173
Elite Facility – 8 Turf Fields
10 minutes from O'Hare International Airport
1 mile south of Woodfield Shopping Center
IMPORTANT DATES & DEADLINES
Registration Deadline: March 24th, 2023
Brackets Released: March 31st, 2022
Preliminary Schedule Released: April 17th, 2023
Final Schedule Released: April 20th, 2023
Wanna be a referee for this event?
Referees must complete both the registration to participate in the tournament.
All Applicants under 15 years of age must have a valid work permit:
§  All officials must sign the release form before the 1st game.
§  All officials must be currently registered.
§  Out of State referees must have their US Soccer Federation Registration during the event.
§  Deadline for referee's applications is 2 weeks prior to the tournament date
Location
Olympic Park in Schaumburg at 1675 Old Schaumburg Road, Schaumburg, IL 60173.
Age Groups
8U: 2×20 min. halves | 1 man system: $ 25.00

9U – 10U: 2×25 min. halves | 1 man system: $ 25.00

11U – 12U: 2×30 min. halves | 2 men system: $ 30.00 Each Official

13U – 14U: 2×35 min. halves | 3 men system: Center $ 40.00, AR $ 35.00

15U – 18U: 2×35 min. halves | 3 men system: Center $ 45.00, AR $ 35.00
Game Times
§  Friday 12:00 PM: College Showcase
§  Friday 5:00 PM
§  Saturday 7:30 AM
§  Sunday 7:30 AM        
Contact:
GAETANO TRAVERSA (Referee assignor)  illinoissportsassigning@gmail.com
1675 Old Schaumburg Rd, Schaumburg, IL 60173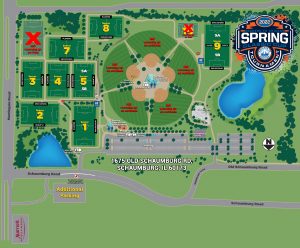 545 S Consumers Ave, Palatine, IL 60074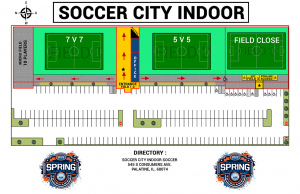 1141 IL-19, Schaumburg, IL 60193